From MAID, I learn English and "How to be A Tough Mom"
Why English?
Firstly, I just want you to know the reason why I write an article in English. And the reason is to increase my capability in English. So, I start it by reading and writing in English for my daily life.
I am a blogger and I write articles almost every day. So, writing is my daily activity. So do reading.
Before writing an article, I used to read some sources to make a readable and good article. Because, I want my readers to get some benefit, not a hoax through reading my articles.
Even though I have written Indonesian articles for so long, about ten years, it's important for me to start writing English articles to level up my value as a professional blogger.
For several times, I have accepted some offers to write an article from a brand company to promote their product or website. Unluckily, I can't accept all the offers caused by my "not good enough-skill" in English writing.
Just for your information, the fee for English writing is more expensive than Indonesian writing. It's such an interesting lure, isn't it? Ahahaha…
Netflix, My Best Spot to Learn English
To increase my English-writing skill, I registered for an Online English course and then I chose Academic Writing Class. Thank God, I use a fast Internet Provider for Internet Fixed Broadband service at home. So, no problem for me to attend my online class at night twice a week.
I also increase my skill through activities in my daily life, like watching movies or series on TV and listening to English songs.
Fortunately, my Internet Provider also supports Netflix as an Add-On Package. So, I can watch my favorite series with English subtitles.
By reading the subtitles and listening to the conversation, I understand the correct words for a particular topic. And I also know some informal words that I can use for a storytelling article.
Based on my experience, learning English through my favorite activities will be easier to understand. Then, I can apply it easily in my daily life. As we know, mostly TV series on Netflix use daily English conversation.
My vocabulary is growing everyday like a tree with many fruits and leaves while watching TV series on Netflix, hehehe.
MAID, One of My Favorite Series on Netflix
Since I was notified by Netflix for this TV series, the caption got my heart. It's about a young mom with a sweety little daughter who runs away from home caused by an abusive marriage.
I almost cried a river while watching the trailer. It's such a complicated life ever for a young mom.
Alex is her name, the young mom. And Maddy is her daughter's name. And her husband's name is Sean.
In fact, this TV series is based on a true story of Stephanie Land.
So, MAID was not only released as a TV series but also as a book with same title. The story was written by Stephanie Land herself.
MAID shows us how complicated the problems in Alex's life are after she gets out of their home.
We can see how difficult she has to find a job while Maddy is with her. She also faces difficulties in finding a house for both of them. The complicated process of divorce makes her really so dizzy.
The problems seem to run after her. While she's getting tons of trouble with her marriage, her mother Paula can't help her just to take care of Maddy. Moreover, Paula also participates in adding up the problems to Alex's life. A mother should be a shelter for a daughter. How pitiful you are, Alex.
But thank God, there are still kind people who help Alex to go through her hard daily life. And then, she starts getting more power, more patience, and an open-way for her problems.
Alex is me
As I watch Alex, I almost seem like watching myself on screen. Yeah, sometimes I cry with a smile.
She works anything just to survive, especially for her little daughter. She even works as a maid, a low pay maid.
Like me. I am a blogger, nano influencer, finance staff, and sometimes a buzzer on social media. Hahaha…I work many jobs to get some money for our daily needs.
She becomes braver to fight for her life, for her Maddy. OMG…I immediately remember my daughter when she was a little daughter with me wherever I go since we became two.
Alex also loves writing like me. And she began to write again after she was awake from her sleeping for so long. Sleeping with all the problems, sleeping with all the tears, sleeping with all her nightmares.
Alex is also enthusiastic in learning new things, even she plans to apply for college after her divorce.
In my daily life, I also love learning new things like blogging, English writing, and many more to level up my skill as a blogger or something else.
Finally, Alex lives just with her daughter, so do I.
What do I learn from MAID?
As I write above, I learn English from TV series on Netflix. MAID is one of them.
But, not only learn English, I also learn many things about becoming a tough and smart mom.
Whatever the problems I get in life, firstly I should be calm. Keep loving your family around you.
And then, I would like to learn new things to increase your value whatever I am, as a blogger, an office staff, and a mom.
And one thing, be kind and honest.
IndiHome provides A Complete Internet Fixed Broadband
Fortunately, IndiHome as Internet Provider from Telkom Group provides Internet Fixed Broadband service with some Add-on package.
Netflix is one of Add-on package on IndiHome.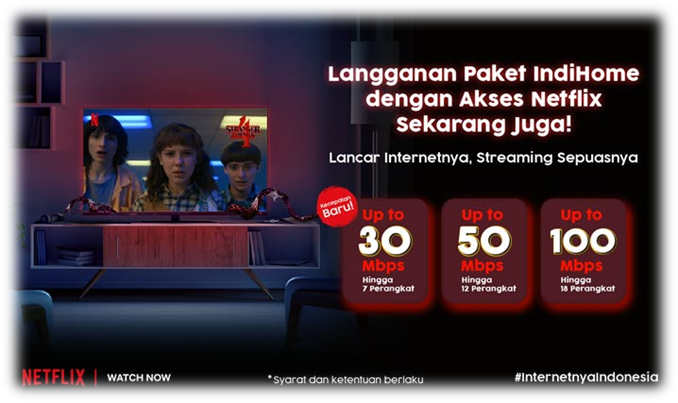 We have known that IndiHome is the best Internet Fixed Broadband Provider with a fast and stable network. That's why I choose IndiHome as an Internet Provider at home to support my daily life as a blogger who spends much time on the internet for writing and doing research.
Not only for writing or learning, IndiHome as an Internet Provider helps me to enjoy entertaining contents like TV series, movies, and Music. Yeah…it also reduces my stress.
And I hope by learning English through watching TV series on Netflix, I can improve my ability in writing English day by day. So, I hope my readers will love reading my articles and more people from abroad will offer collaboration with me.
Through MAID and IndiHome, I can enjoy my daily life, happy or sad. Then, I can write good English Articles joyfully.
References :
https://www.today.com/popculture/heartbreaking-netflix-series-maid-based-true-story-single-mom-t244725